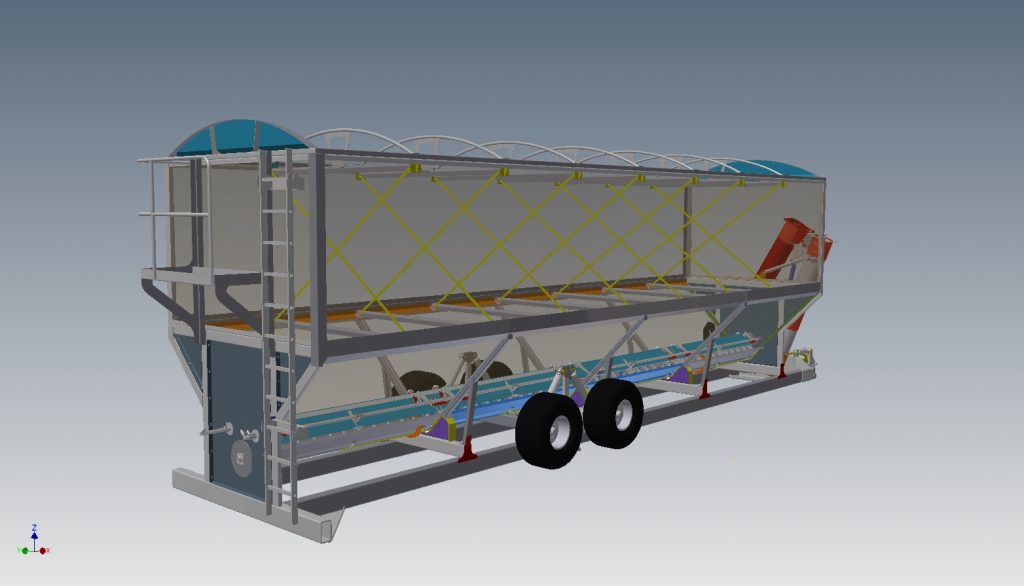 When developing Fältlagret our aim has been to develop a product that is easy to use. Fältlagret is run by a tractor and it islowered to the ground through hydraulic which is manoeuvred from the tractor´s cab. In order to be able to raise and lower Fältlagret it has hydraulic rams to the bogie and to the bar. The emptying auger is precipitated with hydraulic and then Fältlagret is ready to be loaded.
When Fältlagret is in operation it is lowered to the ground which makes it stable even though the emptying auger is precipitated. In order to empty the full Fältlager the PTO is started. The PTO drives both of the emptying augers on Fältlagret.
The emptying auger can be raised and lowered using hydraulic in order to adapt the height when emptying Fältlagret. When the bin is empty the emptying auger should be folded and the bin raised in order to move it. Fältlagret has a cover over the auger in order to be able to empty it as well as slots underneath in order to foster easy cleaning in between different crops.
Our own experiences have helped us develop a highly functional product:
Fältlagret has lids positioned under all of the emptying augers which enables easy rinsing
Since both of the augers starts when the PTO is turned on there is no room for incorrect manoeuvres.
Both of the bottom augers have a cover which enables the auger to be emptied while there still is grain in the bin.
The horizontal emptying auger´s height can be adjusted when it is precipitated. This is in order to make it more flexible and possible to be positioned closed to or further away from the bin while loading.
Fältlagret comes with a roll tarp which covers and protects the grain from rainfall.
Lubrication points etc. are placed as ergonomic as possible in order to facilitate the maintenance of Fältlagret.
Facts:
Fältlagret is constructed and produced in Sweden.
Fältlagret can be moved with a maximum load of 10 tons.
Both of the emptying augers are driven by the same PTO.
Fältlagret has manual closings covering the bottom auger.
Hydraulic raising and lowering of the bin.
The emptying auger is driven by hydraulic.
Emptied in 10 minutes.
The volume is 60 m3.
Width 2.5 m.
Height 3.8 m.
Length 13.3 m.
Weight while empty 7 tons.